Day 5:
Monday was a very busy day here in Warendorf. In addition to the intense daily jumping, dressage and theory lessons, the students had the privilege of visiting the German Riding Federation (known as FN, as well as the German Olympic Committee for Equestrian Sport (DOKR), which is affiliated with the FN. These two organizations are within a short drive from the Riding School. It was surreal to be in the epicenter of where the most important German equestrian decisions are deliberated and made!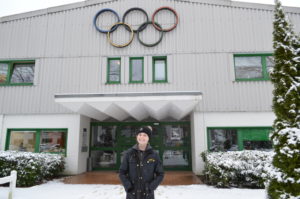 Markus Scharmann, Science Coordinator for the FN gave an incredibly enlightening presentation regarding the educational component that is so vital to success in every equestrian discipline. Markus gave the group a glimpse into the German rider educational system and needless to say the education of trainers and riders is regulated in a way that is extremely detailed, thorough and complex. The consistent success of the Germans in equestrian sport, as well as the number of German horses we see in the U.S. ~ is certainly proof that they're on to something! I asked Markus what he sees as "the key" to their success and he mentioned a couple of things. 1. He said that within Germany there are a lot of opportunities for riding/clinics/competing within a very short distance and that these experiences are year round. 2. The educational system here (although "not perfect" he says), provides a systematic approach to help riders/trainers gain knowledge to develop horses to their highest potential. "You must have feeling, but you cannot have total success without educational pathways for riders to improve".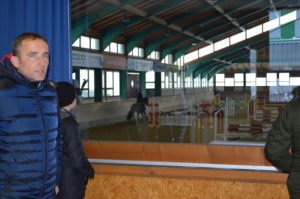 At the DOKR, we briefly met the very talented Bianca Nowag. I believe she is just now turning professional, but she is currently ranked #5 in the world for FEI U-25 dressage.
Annie pointed out to me that for being such a prestigious organization, one would think the buildings would be state of the art and aesthetically pleasing. However, the barns, arenas and offices are quite basic and built in not the most attractive style circa the late 60's/ early 70's. I think that this emphasizes exactly what we are learning all about here – that it's not about how beautiful and elaborate the facilities are…it's so much more than that! Everywhere we've been, the horses are furry, windows and doors are open for ventilation and barns are quite basic without heat. The best word I can use to describe what we've encountered here is "authentic". I've always been a huge proponent of education and unique educational opportunities (Lendon Gray's WIT and now this once-in-a-lifetime experience for example), but I will certainly be loading up on more educational equestrian books for Annie this Christmas!