Day 1: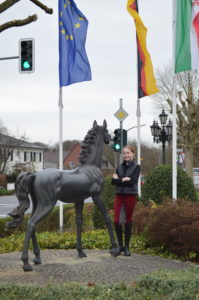 Several months ago, Annie Klepper received a very special invitation from her German coach Nicole Thüngen to attend the prestigious German Riding School in Warendorf, Germany. Thüngen is the Director of English studies at the University of Findlay in Ohio. Each year Nicole takes a group of her university students to Germany to earn their German Performance Medals. At this point, this is the only American group that has been granted entrance to the famed German Riding School, as it is exclusively open for German professional certification only. The German Riding School in Warendorf has never hosted a student as young as Annie, so this was indeed a true privilege.
The German Performance Medals are awarded to equestrians by the Deutsche Reiterliche Vereinigung (German Equestrian Federation or FN) to confirm that the rider has a certain level of ability and knowledge in riding, handling horses and horse theory and management. In Germany, these medals must be earned before an equestrian is allowed to start competing in dressage above Training Level or jumping over 2.6'. These performance medals are necessary for German riders to continue on in other areas of his/her equestrian career
Although Annie may be the youngest American to have ever attended the German Riding School in Warendorf, it is actually quite common for German children her age to train at other riding schools to earn their medals. Annie must first earn her "Basispass", which is the first step/certification to prove she is capable of basic German horsemanship.
Warendorf…the "Horse Capital of Germany" is a small, medieval town, about 45-minutes via car from Münster. The total travel time door to door from McCutchenville to Warendorf was about 16 hours. Directly upon arrival, with no sleep, and not feeling well, Annie was determined to ride as soon as possible! We arrived several days after the official start of the medal course, so Annie missed out on the tour, general orientation, and first days of lectures and riding classes, so as you can imagine, trying to catch up to speed with the rest of the group and familiarizing herself to the facility and procedures resulted in quite a stressful first day! (Also LOTS of yelling by one instructor in particular, but the German accent makes it sound probably a little more intense;) Thankfully, the first dressage lesson went very well. Annie was given a lovely horse named Rubens, and although she is only used to riding her pony Gigi…she definitely held her own on this big guy and received some very nice compliments from her instructor. (I was incredibly proud and may have shed a couple of tears (from both pride and relief!)
Tomorrow Annie will continue with another group dressage lesson, two theory lectures, and she will also have her first jumping lesson in the afternoon. Annie has only had a handful of jumping lessons back in the U.S., so that could be interesting! Although I'd love to post loads of pictures…photos inside the riding school are not allowed. (I discovered that the hard way after I already snapped a few and was promptly scolded!) but here are a few I managed to take before I knew they were forbidden!
Until tomorrow/bis später